M55 & Payload
Synergy in the M55 Geophysica chemistry payload: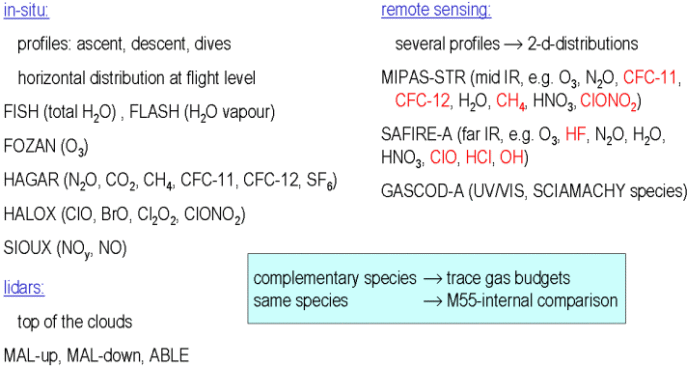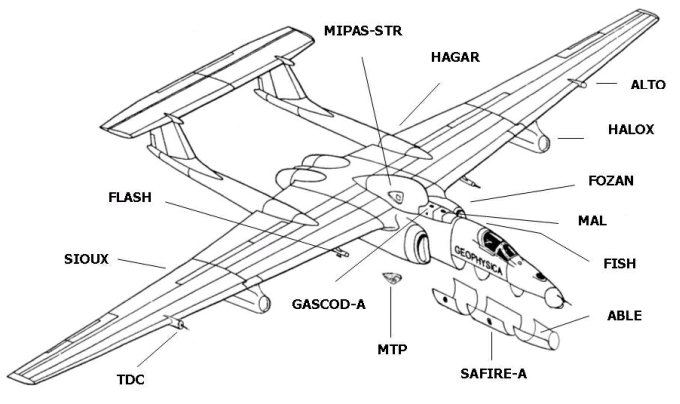 The technical characteristics of the M55 Geophysica :
Length: 22.9 m
Wing span: 37.5 m
Speed: max 750 km/h
Record altitude: 21,830 m
Operative radius: ca. 3,500 km (17 km altitude)
Flight endurance: 5 h 15' (17 km altitude)
Takeoff weight: max 24,700 kg
Payload weight: max 1,500 kg
Payload volume: max 11.83 m3
Thrust: 2 turbofan engines 5,000 kgf
Takeoff/landing run: 900 m
Runway required: 1,800m (asphalt)
Cross wind on takeoff/landing: max 36 km/h
The wide 6.6m track resulting from the twin-beam structure of the aircraft, provides stability during takeoff and landing.
The presence of two engines and the 1:22 gliding ratio (comparable to that of a motor-glider) ensures high operative safety.