We investigate the complex interaction of chemical and dynamical processes in the Earth's atmosphere on basis of distributions of trace gases, aerosols, clouds and temperature which we derive from spectral measurements of satellite remote sensing instruments. Our work field covers processing of satellite data and their validation, the research on physical and chemical processes in the atmosphere on the basis of the retrieved distributions of temperature, particles and trace gases, and the development and implementation of related satellite data analysis algorithms. The current focus of our work is the MIPAS-Envisat mission. The MIPAS satellite data derived by our group can be accessed here. Besides our work with MIPAS we are involved in the preparation of future space missions. On this website you find information about our publications, MIPAS-Envisat data, the annual MIPAS Data User Meeting, our radiative transfer model KOPRA, the team and our projects, as well as some pictures.
Highlight of the month:
Global OCS distribution derived from MIPAS measurements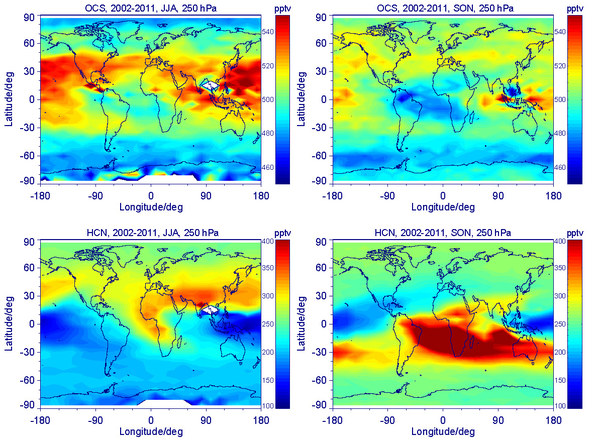 Upper panel: OCS distribution measured by MIPAS during the years 2002--2011 on the 250 hPa level (10--11 km), averaged over the months June to August (left) and September to November (right). Lower panel: Global distribution of the biomass burning tracer HCN for the same time periods. The location of the OCS maximum over the Pacific and Indian Ocean points to a large influence of oceanic sources. The missing correlation with HCN indicates low release of OCS by biomass burning.