The Montreal protocol saves the ozone layer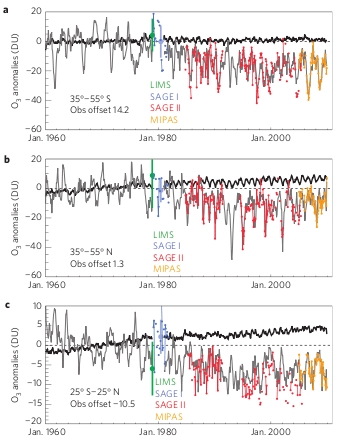 Model calculations (grey line) and satellite observations (colored lines) agree that the ozone layer has been revovering since emission of ozone-destructing substances has been reduced by the Montreal protocol. These results have recently been published in Nature Geosciences, Vol 7, pages 442-449, DOI: 10.1038/NGEO2155, 2014, by Shepherd et al.
Further, it has been shown that tropospheric ozone changes have affected the total ozone column densities in a way that parts of the stratospheric ozone changes might have been masked in the total ozone record.
For details see http://www.nature.com/ngeo/journal/v7/n6/pdf/ngeo2155.pdf